Groat Law is a boutique family law experience servicing clients throughout Northern Michigan and beyond.
Divorce
We provide the guidance and resources to help you navigate a divorce.
Custody
Get long-term solutions to complex divorce problems.
Child support
Find out about how support can be best structured in your unique circumstances.
Parenting time
Let us solve your custody and parenting issues and resolve ongoing disputes.
PPO Litigation
We have extensive experience in matters involving PPOs.
Collaborative
Learn how we plan to divide marital and separate assets for your benefit.

Travis J. Groat concentrates his practice on family law, specifically in divorce, custody, child support, and litigating personal protection orders. Travis also specializes in prenuptial agreements.
Travis is a well-known litigator and has taken numerous divorce and custody cases to trial with favorable results for his clients. He is also a certified Collaborative Divorce Attorney and has handled countless Collaborative divorces in Michigan.
When you're fighting for justice, you want someone who fights to win, especially when it's for a child's best interest.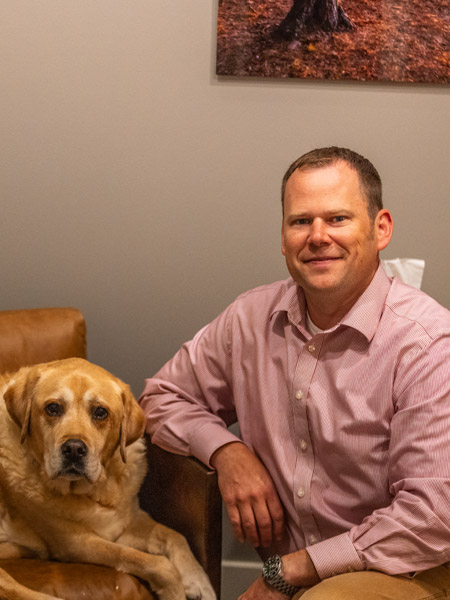 B.S., Central Michigan University, 2000
J.D., Michigan State University College of Law, 2003
Mr. Groat is a native of Petoskey, MI, and is a 1996 graduate of Petoskey High School. He obtained a Bachelor of Science degree from Central Michigan University in Mt. Pleasant, Michigan, in 2000, where he majored in Political Science and received minors in Business Law and Regulations as well as Economics. Mr. Groat graduated with a law degree (Juris Doctor) from Michigan State University College of Law in East Lansing, Michigan, in 2003.
The goal is always to attempt to resolve matters amicably first, but Travis is not your average lawyer. Many lawyers have never called a witness to the stand or cross-examined someone. While Travis is a collaboratively trained divorce and custody attorney, he does much litigating. With a proven winning track record of 20 years, let Travis be your warrior and fight for you and your family.
A boutique family law experience
Travis: Exceptional Client Advocate
"Travis has been a great client advocate for my family and I. He does not hesitate to stand up for his clients and fight for what they deserve."
Clients Have Confidence In Us